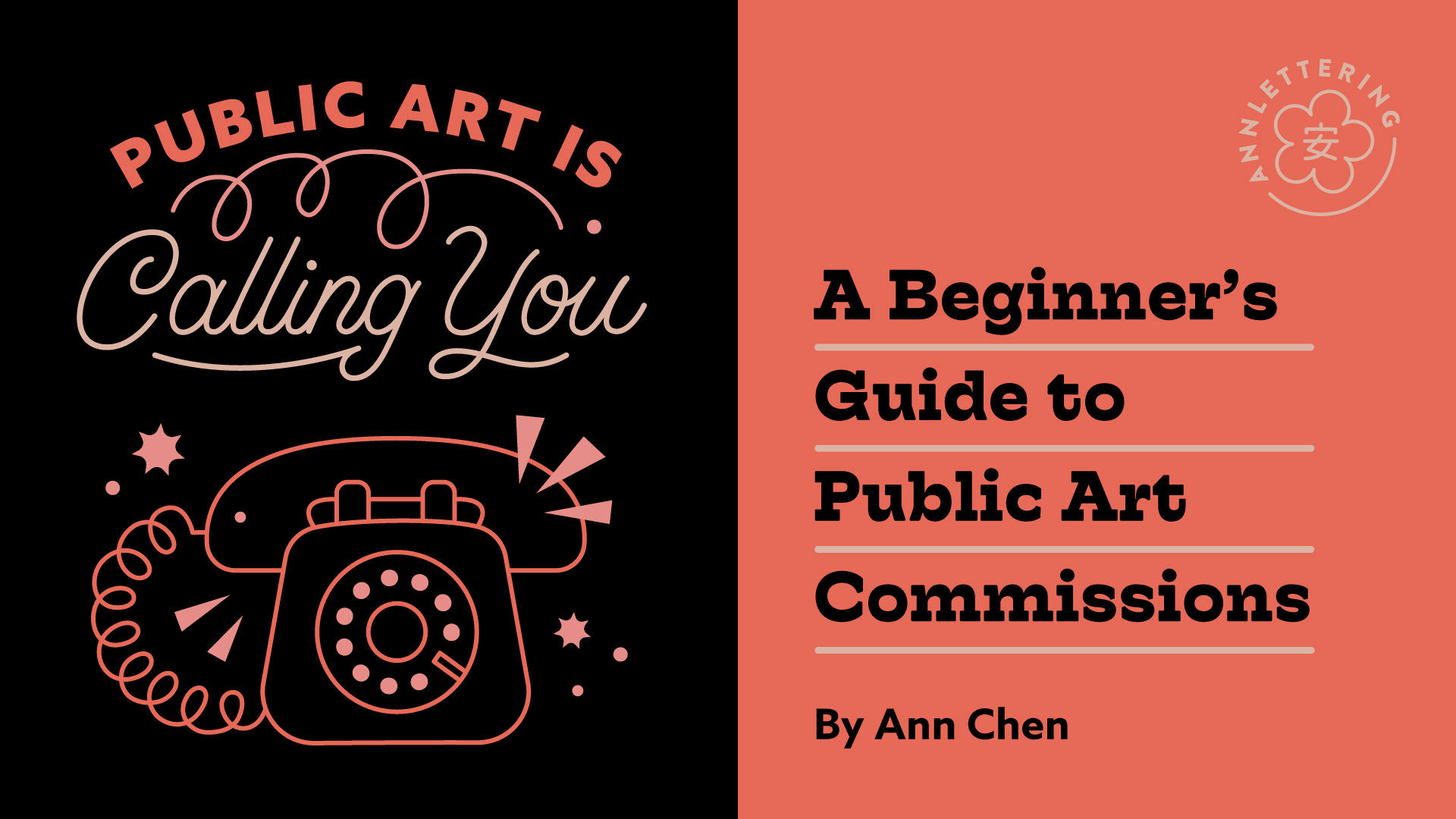 Are you missing out on public art opportunities that have the potential to level up your creative career? 
As a former outsider, public art seemed like a sophisticated genre meant established fine artists who paint on enormous canvases or carve intricate sculptures. It appeared out of reach for someone like me who do lettering on an iPad!
However, once I started paying attention to the public art opportunities available around me, I discovered there's room for visual design, digital illustration, and photography too!
Did you know most urban cities have a public art program to support artists' advancement? 
These programs issue call-for-artist (CFA) for creatives like you to submit themselves for paid commissions that enrich the local culture or honor history. Project types range from murals, 3D art to temporary printed or digital displays. There are also calls for existing works like paintings and photography to decorate interiors of city properties. 
Since 2019, I've worked on six city-funded public art projects with a combined budget of $32,900.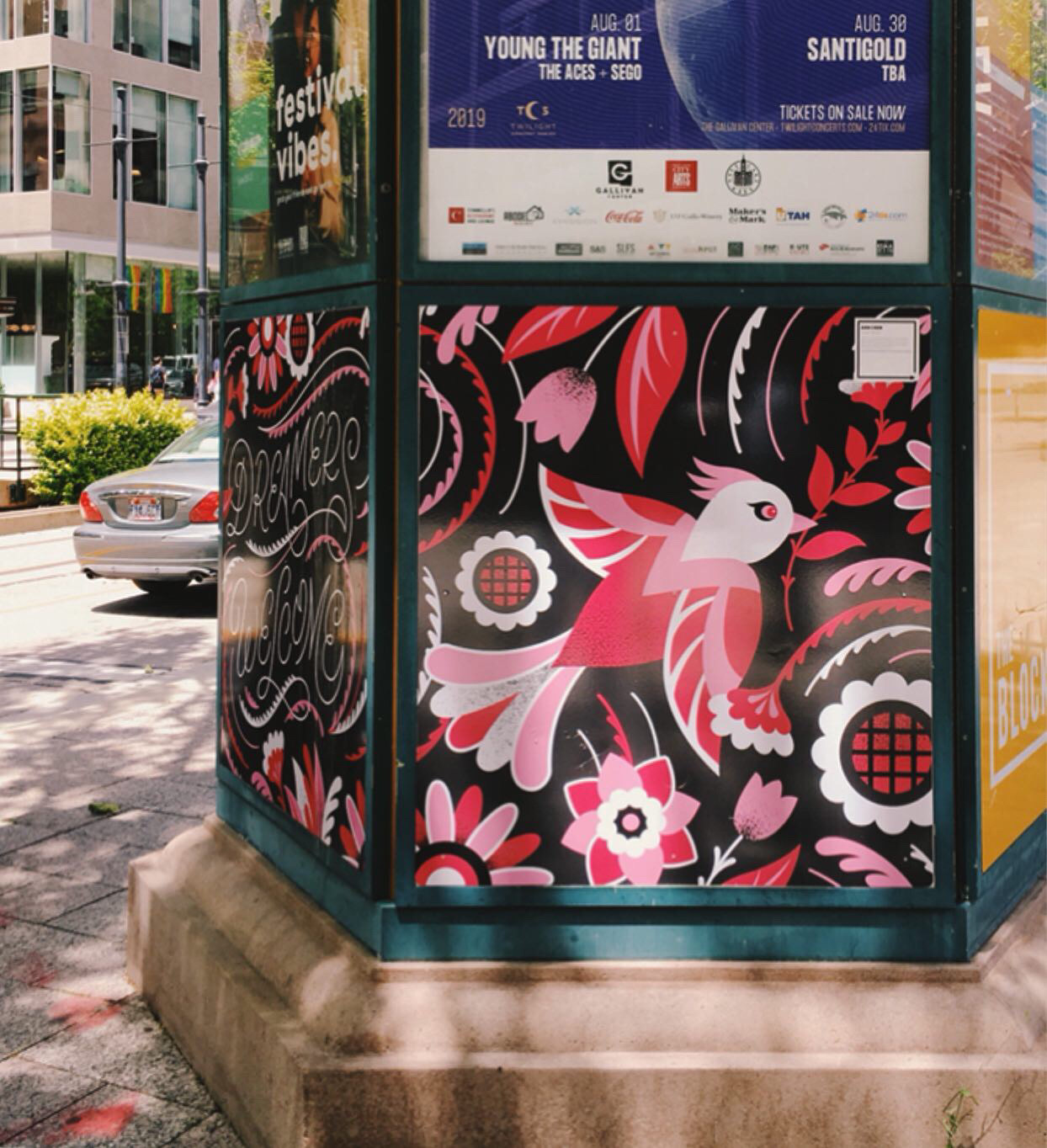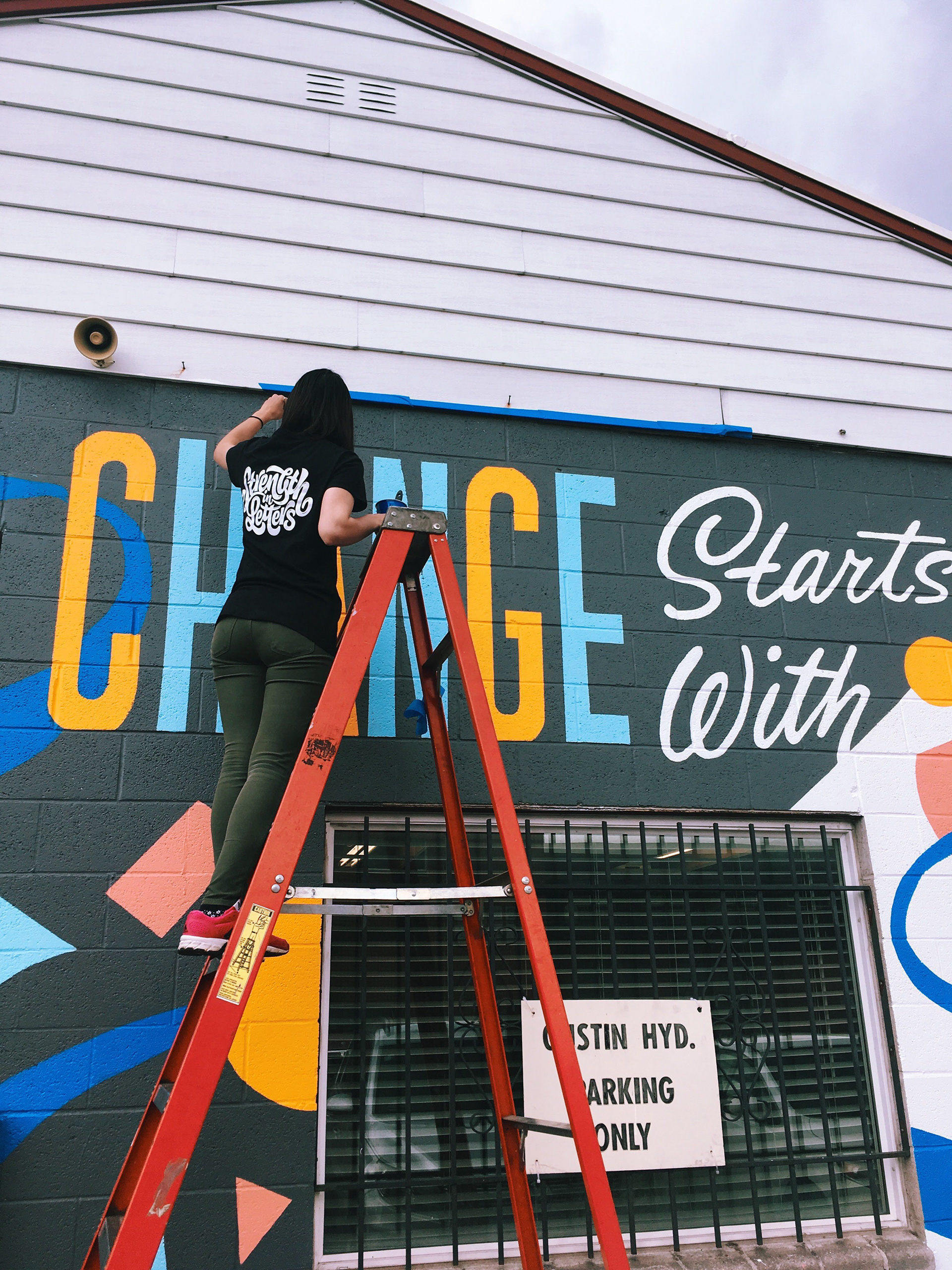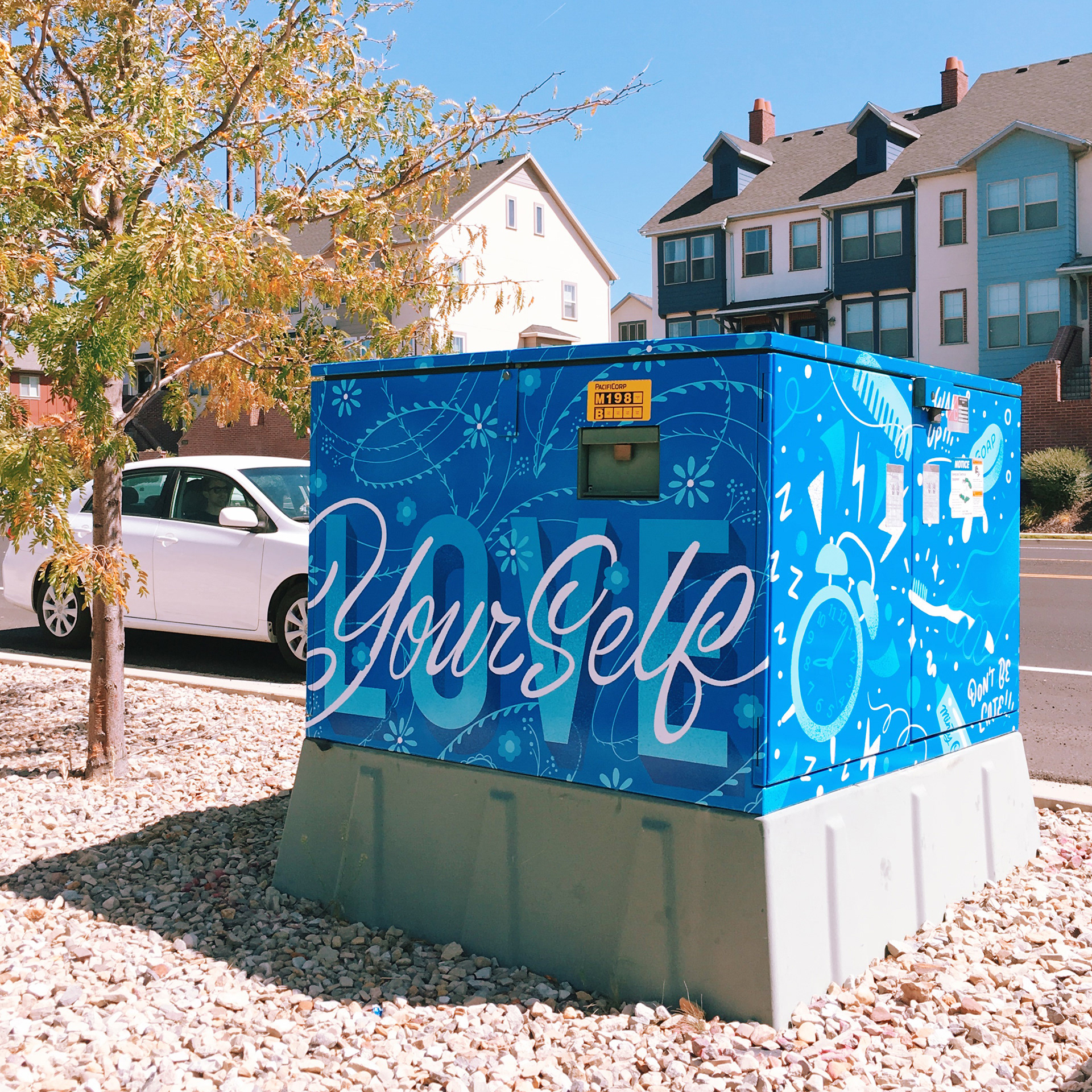 My lettering and illustrations have appeared on utility boxes, printed outdoor displays, murals, and a metal panel as part of a bridge for a park in Utah. Public art have strengthened my portfolio and experience, and I know it could make a tremendous impact on you too!
So I made a resource to help creatives lean into public art...
Public Art Is Calling You: A Beginner's Guide to Public Art Commissions
 is for creatives who want to answer art calls with less hesitation and more confidence. 
Whether you are a full-time creative or freelancer on the side, this guide will teach you how to pick up public art calls without exhausting your precious time and energy. 
✹
The basics of city-funded public art.
✹
Best practices for applying to call-for-artists.
✹ 
Insurance to protect yourself and your business.
✹
Important information on copyright & ownership.
✹ 
Writing tips for artist statements.
✹ 
When to use a CV over a resume.
✹ 
Ways to improve equity in public art.
This guide is perfect for: 
✹ 
Anyone in the U.S. with big dreams of seeing their art out in the world!
✹
Dreamers who want to make a mark and share their talent with their community.
✹
Creatives who believe art can provide solace, bring hope, and inspire change.   
✹ 
Artists who are aiming to diversify their portfolio with unique projects.
✹ 
Full-time employees who are looking for inspiring side projects.
✹ 
Freelancers who want to explore another stream of income.
✹ 
People who want more professional experience and paid work.
✹ 
Students who wish to get a head start on real-world commissions.    
✹ 
Anyone who previously gave up on public art calls due to lack of knowledge.
This guide is NOT suitable for: 
✹
People who can't follow instructions. Public art is serious business with lots of rules.
✹
People who don't like being told what kind of art to make. Your work has to fit a certain theme set by the organizers.
✹
People who are afraid of rejections. You can't and won't win every opportunity you apply for. 
✹ 
People who want to make "a quick buck." Preparing applications takes effort and there are no guarantees in public art.
✹
People who don't enjoy learning through reading. This guide is all words and no pictures! 
What's included in the guide:
✹
109 slides total covering 15 topics
✹ 
CFA compatibility checklist. 
✹ 
Access to templates for artist statement, CV, and resume. ​​​​​​
Want to know what else I'll cover? Check out the guide's table of contents: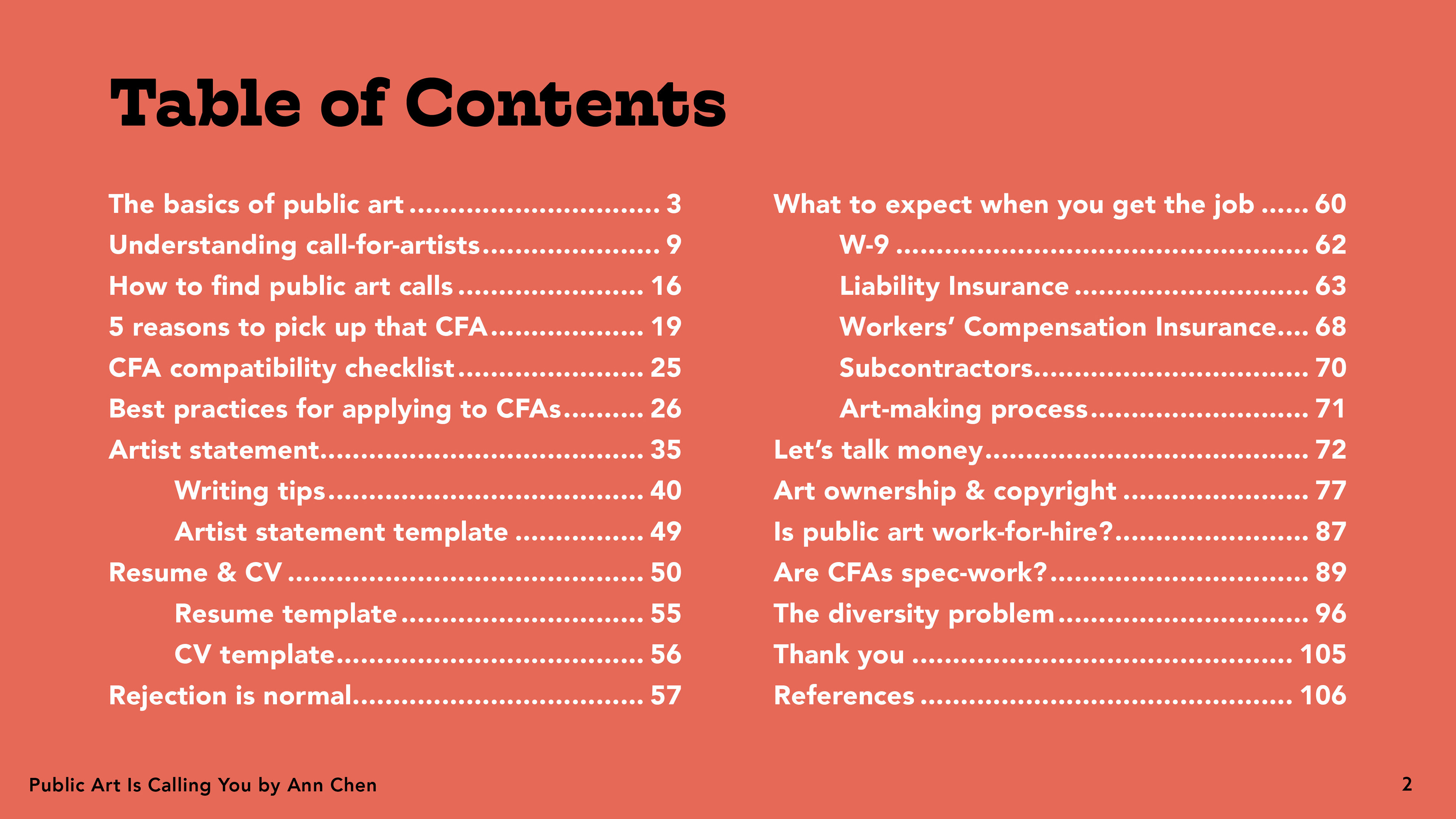 Applying to public art projects is similar to scholarships and grants. 
The rewards can sharply advance your experience and career, but the risk is investing your energy upfront with no guarantee in a payout. With my guide, I'll help you minimize that risk by sharing my experience on applying to art calls so you can be better prepared. 


Still not sure if public art is for you? Read 5 reasons to pick up public art calls: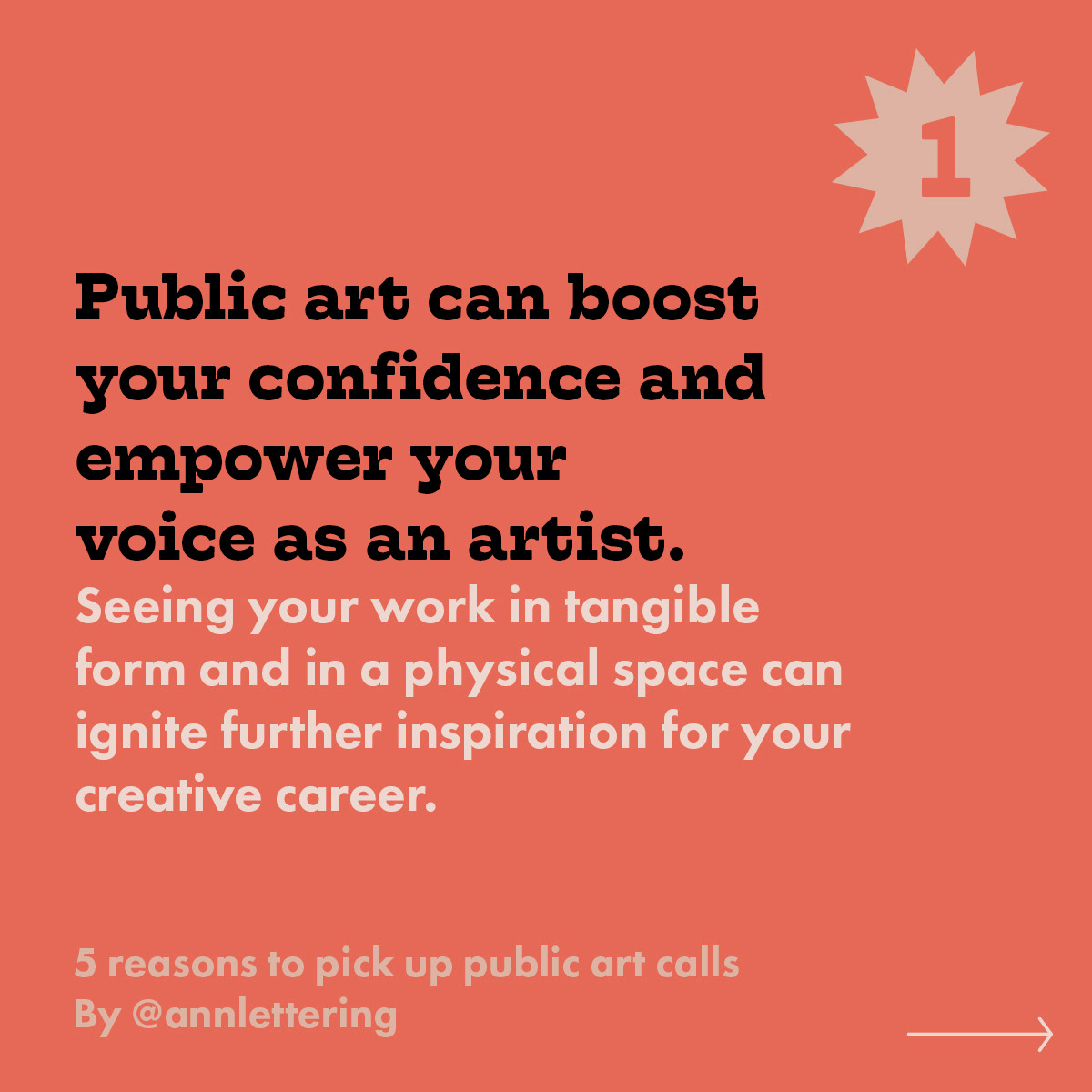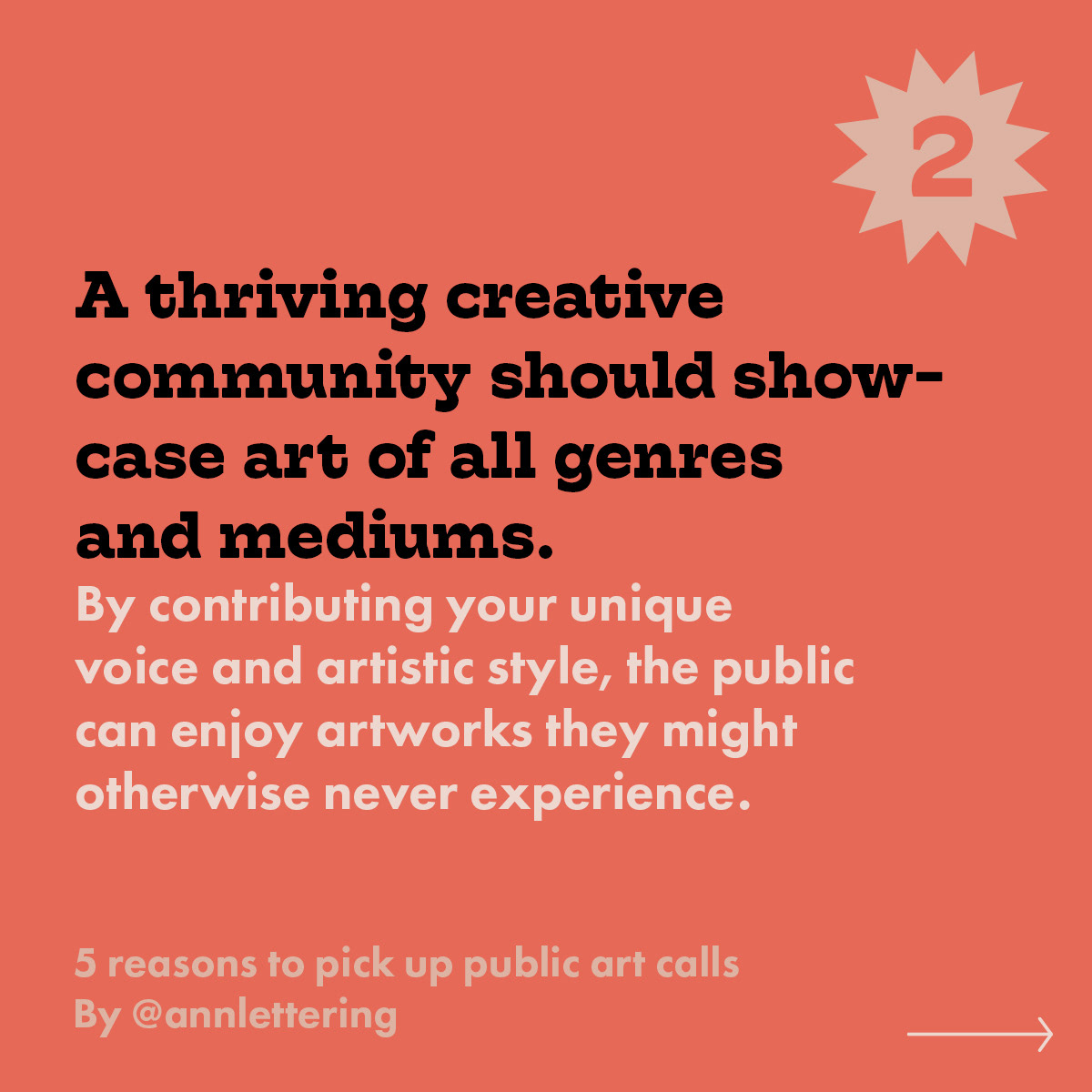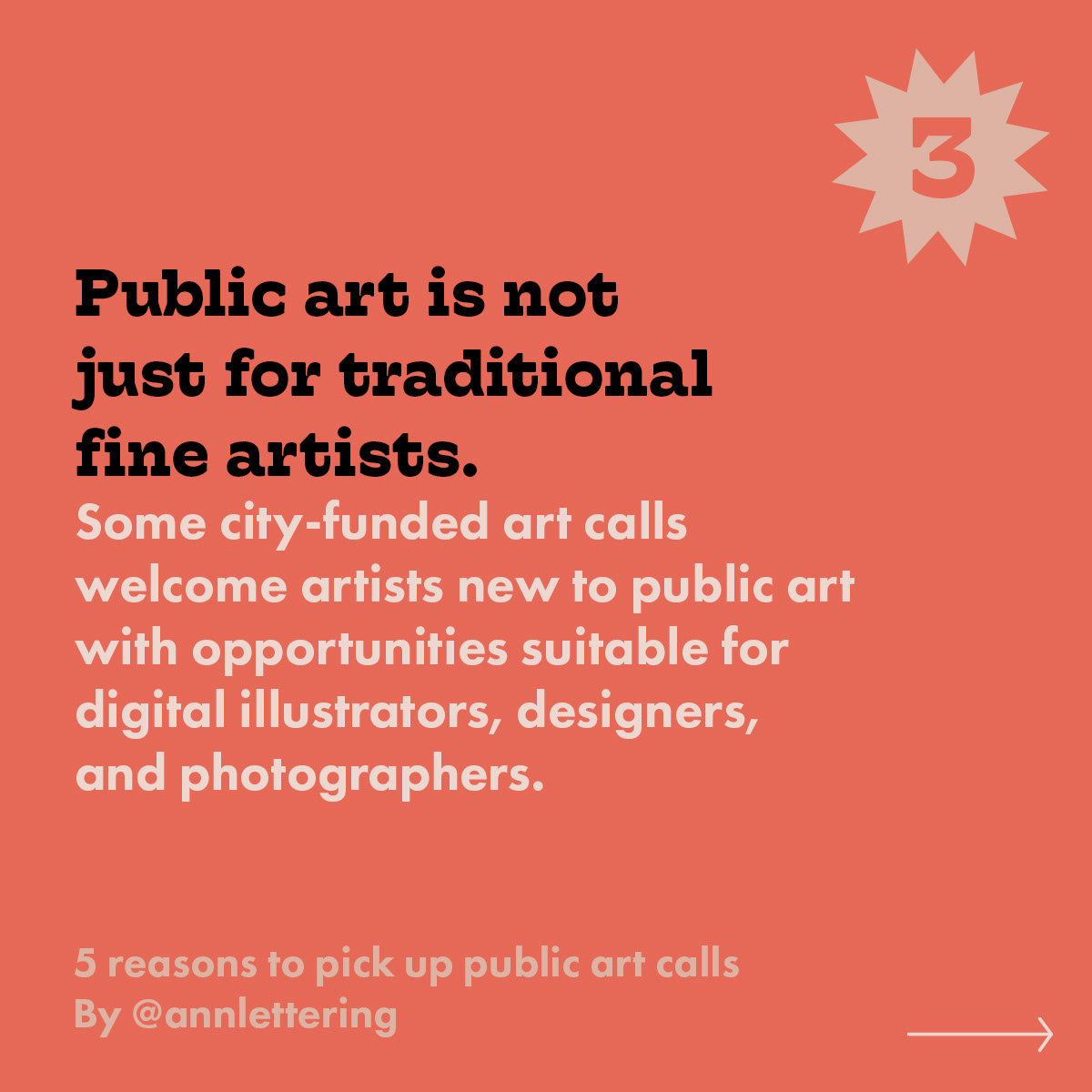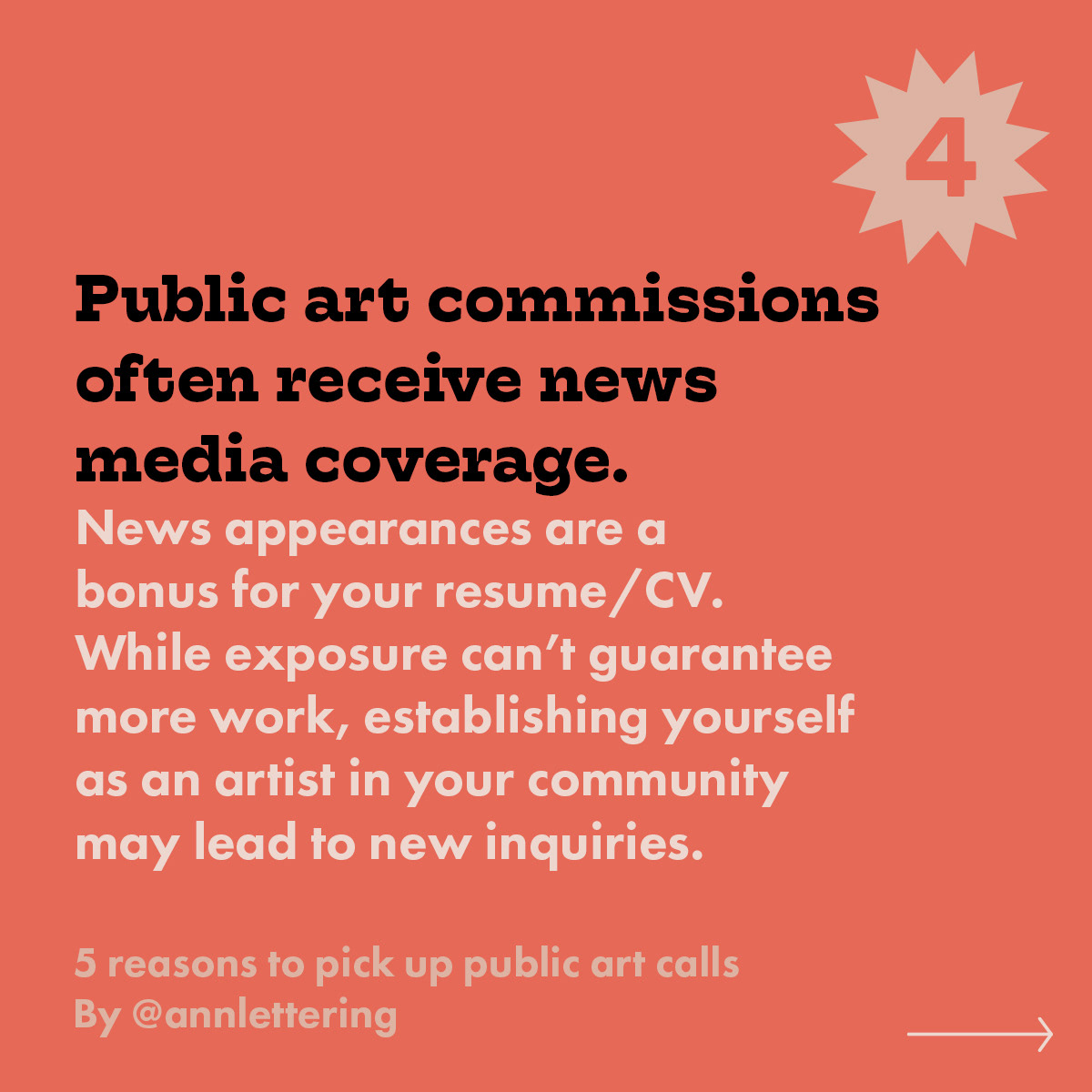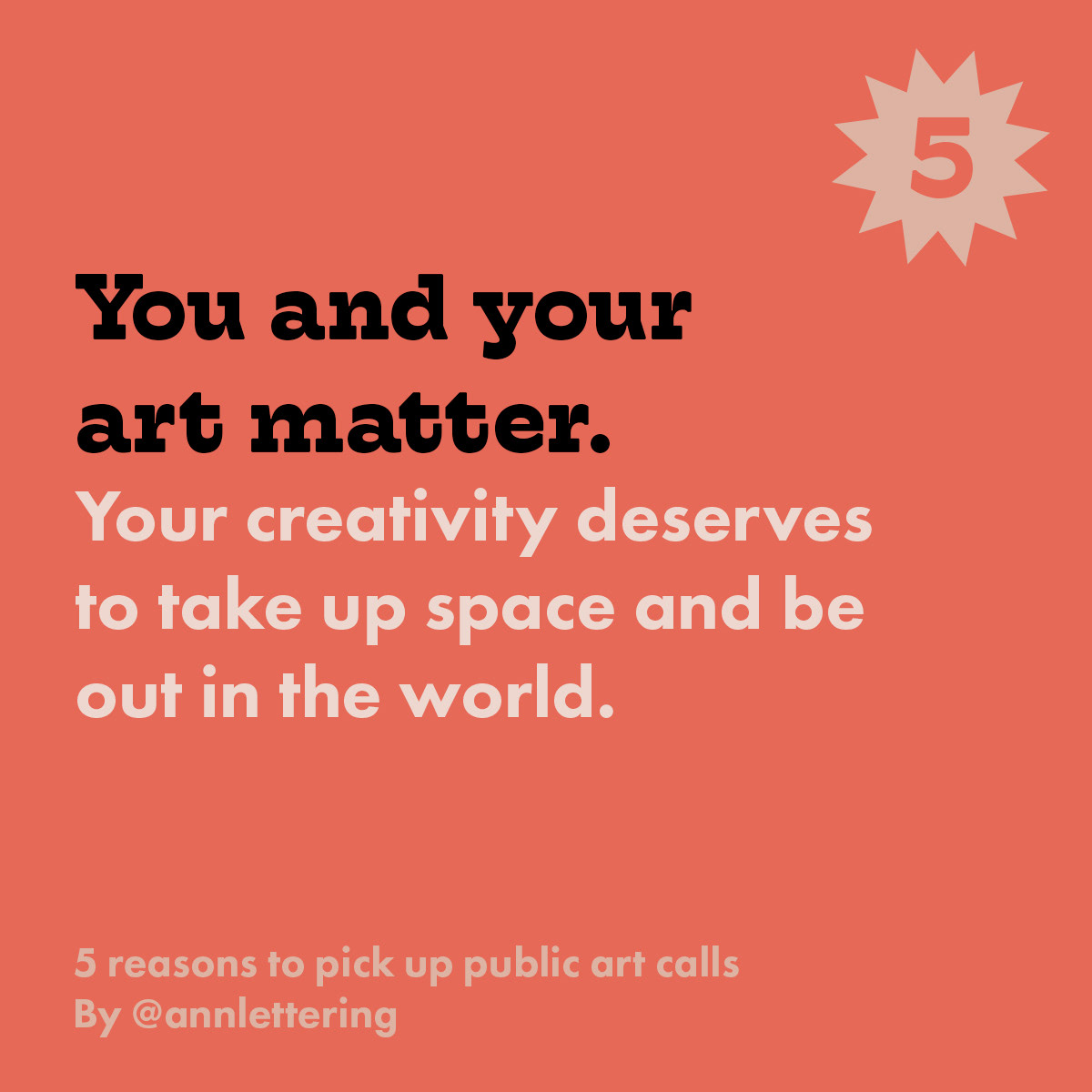 Ready to invest in yourself and step into the world of public art? Order 

Public Art Is Calling You

 to get started!
Frequently Asked Questions
What is the format of this guide? 
Public Art is Calling You is a PDF guide that allows you to reference the content whenever and wherever you like.
Is this guide a physical book? 
No, this guide is digital content for viewing on a digital device. You need a smartphone, tablet, or computer to view the PDF on a web browser or through Adobe Acrobat. 
How long do I have access to this guide? 
Forever or as long as you have it saved to your digital device. You'll also receive new versions of this guide if there are future updates to the content.
Is the content of the guide only applicable for artists in the U.S.? 
I only have experience with public art in the U.S. and I'm not familiar with how public art commissions work in other countries. While some information may be relevant to international creatives, this guide is made for U.S. creatives.
Is there student pricing available? 
Current students in higher education qualify for special pricing. Please email me at info@annlettering.com using your school email to verify your student status. I'll then provide a unique code that you can use at checkout.
What is the refund policy? 
All sales are final once the product is delivered whether or not the file was downloaded. No refunds are allowed due to the immediate access and nature of digital products.
Can I share this pdf with someone?

Digital Products are for personal use only. Please review the 
Digital Product Terms of Use and Disclaimer
 before purchase. By completing your order, you agree not to copy, reproduce, redistribute, alter, modify, share with third-party, display the content publicly, or create derivative works of Digital Products. You may modify and use the Templates included in the Product in professional applications without credit. You may share the cover design/thumbnail of the Product on social media with tag to @annlettering or credit to Annlettering.com