Say it with a mural!
I've designed over 30 murals for Utah-based and national businesses, including Prudential, DoorDash, Weave, Truework, Chatbooks, Pluralsight, CHG Healthcare, Fashion Place Mall, and The Gateway.
I specialize in word-focused and brand story murals for corporate workplaces, conferences, and statement art for retail spaces. When working with me, you'll receive my punctual communication, attention to detail, and unique concepts that are authentic to your company.
Here's what clients had to say about working with me:​​​​​​​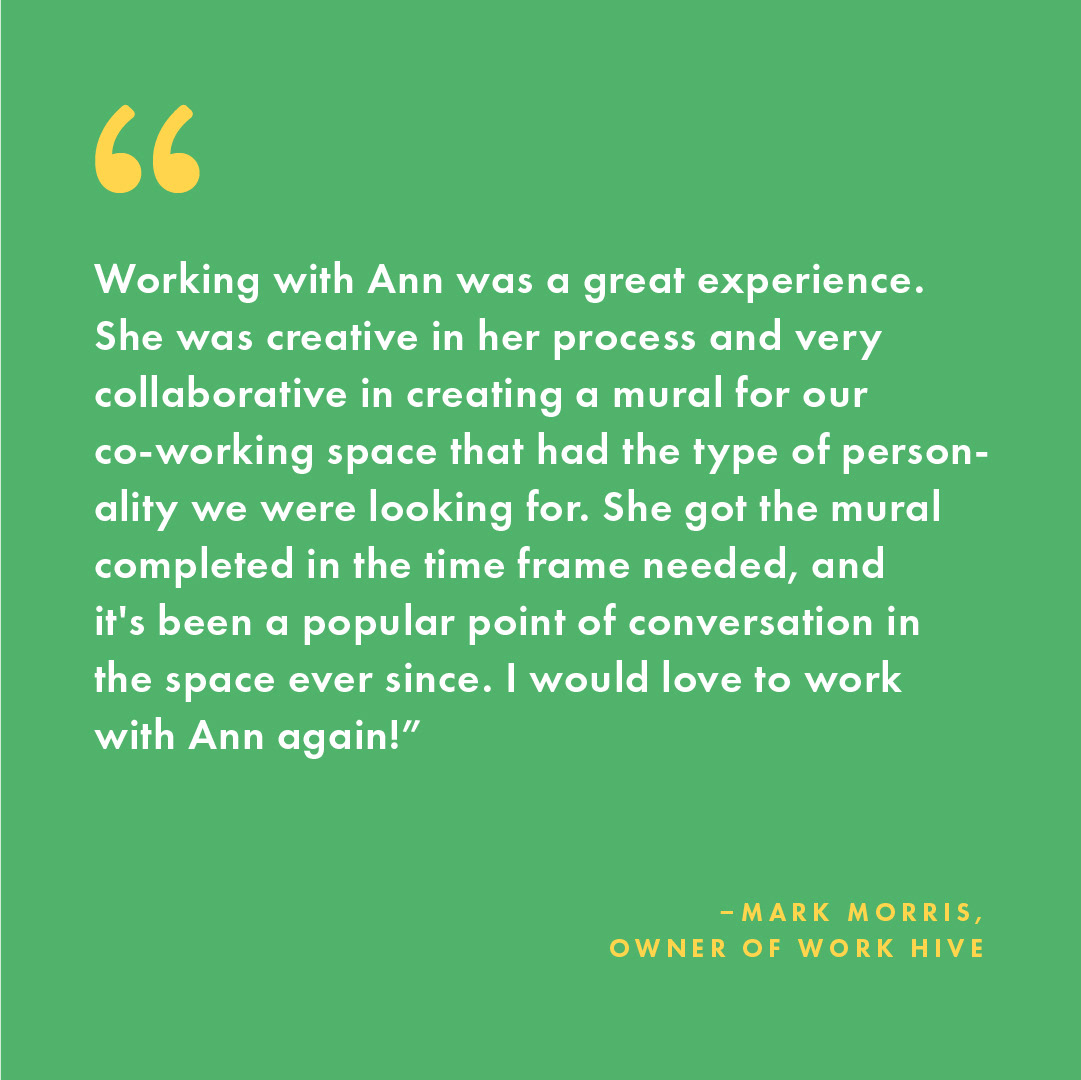 Read an overview of my process then fill out the form below to get in touch.
Step 1: Discovery
Let's get to know each other! In this phase, I'll gather information over email to understand your brand and project needs.
You'll provide measurements, photos of the wall and surroundings, style references, and content ideas for me to propose an estimate.
Step 2: Estimate & Contract
You'll receive a quote based on the size, location, scope, timeline, and complexity of your project needs.
A 50% nonrefundable deposit and signed contract are required to move forward.
Step 3: Design
The standard project scope includes 2 sketch concepts and 3 revision rounds.

We'll communicate timely through honest feedback over email to arrive at a final design.
Step 4: Install
This is where the art comes to life! I'll complete the mural within the agreed timeline. If you're off-site, I'll send you timely updates of the mural over email.
Step 5: Promote
The finished installation will be displayed and promoted through my social channels and portfolio. Show off the mural and feel free to tag me on Instagram! 
You and I are a DREAM team if you also...
1. Believe art is valuable.
2. Practice clear & timely communication.
3. Fulfill obligations & payments on time.
Email consultations are always FREE.

​​​​​​​

Phone calls, video meetings, and on-site consultations (including travel time) are subject to fees at $200/hr billed in 15-minute increments. 
Thank you for your inquiry. I'll be in touch soon. Cheers!